Alpha @ Liberton 
For more details you can contact John Young (on JYoung@churchofscotland.org.uk)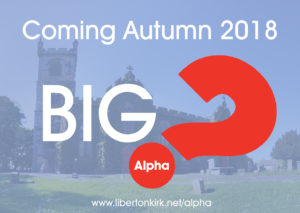 BIG Alpha is coming to Liberton this September to November – and there will be space for 100+ people!
It all starts on 20th September at 7pm with a Launch Event – including a QUIZ and Guest Speaker.
The course itself runs each Thursday evening 7-9.30pm 27th September – 29th November in the Kirkgate Centre.
The invitations and sign-up sheets are now out in the Café and Kirk Welcome Desks, or you can email John direct!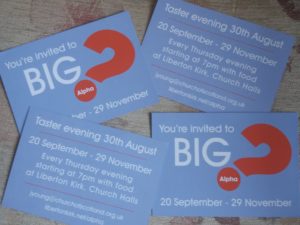 For more information contact John or Lindsay Young (contact details below) or any member of the Alpha Task Team (Sandy, Karen, Fiona, Alastair, Hannah, Kenny, Jacqui and Brad).
Alpha is a 10 week course in Christian basics. It is run in the Anderson Hall at Liberton Kirk Centre, beginning with a meal at 7pm, and always finishing at 9.30pm sharp. (After the meal there will also be a Youth Alpha course run simultantiously in the Wilson Hall upstairs).
Alpha is ideal for someone who
Wants to know more about what Christians believe

Wants to experience Christianity first hand
Has been a church-goer for some time but wants to brush up
Has been to Alpha before but missed a number of the sessions
Knows someone who is interested who they could chum along
Is new to Liberton and would like to make some good friends
We usually run a couple of Alpha courses a year – one in the Spring and one in the Autumn. We also run a daytime Seniors Alpha course in the summer and Youth Alpha whenever the time is right.
For more details – contact John Young (0131 664 3067; JYoung@churchofscotland.org.uk)