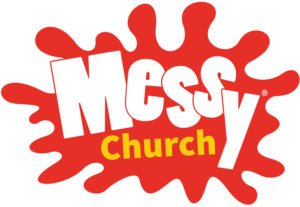 Our next Messy Church  is on:
Saturday,  24th March 2018, 4pm – 6pm, in the Kirk Centre (on the opposite side of the road from the Kirk).    
Especially for families with children from 0 – 10
What Liberton's Messy Church is!
A church for young families to enjoy together.
A church that takes place once a month on Saturdays, at a time when most families have finished the things they have to do.
An opportunity to be part of a church family for people who can't manage Sundays.
A fun time involving creativity, games (and mess!)
A worship time including songs, story, prayer, drama and suchlike.
A meal together.
We'll keep you up to date with the events and other important details here and on our Facebook page.
At the last Messy Church
Messy Church at the end of February was good fun.    In the crafts there were lots of "watery" things going on – water play for the little ones, colouring little wooden boats to take home, and joining in making a very colourful frieze about the story for the day, with Jesus walking on the water (you can see him if you look hard!) and his disciples on a boat.   Peter was just stepping out of the boat to go to Jesus!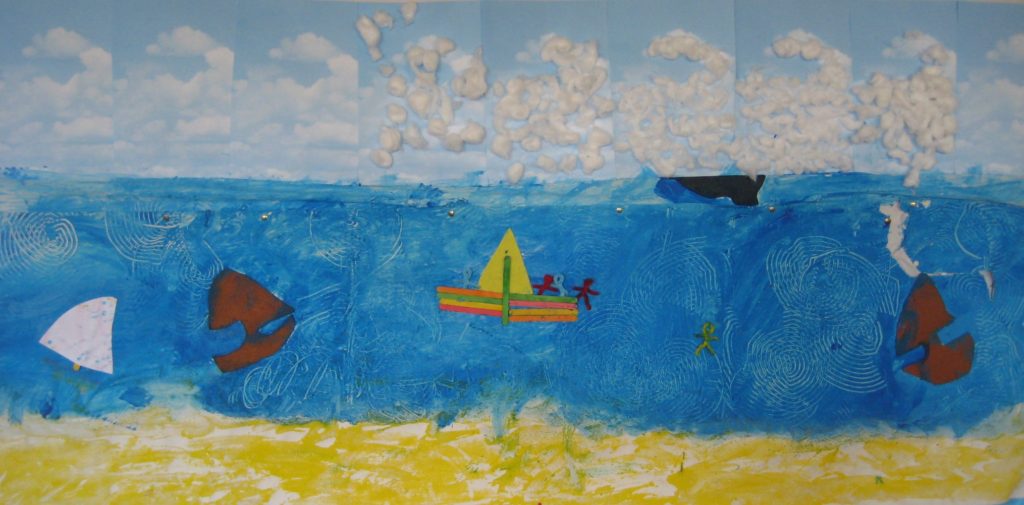 In the worship time, after a couple of songs reminding ourselves how wonderful God was and how good it was to worship him, we heard that Jesus came to his disciples in the boat walking on the water.    It was quite stormy and it was getting dark and the disciples thought it was a ghost – they were terrified!     But Jesus told them who he was and told them not to be afraid.   Peter was very excited to see him and said "If it is you, ask me to come to you on the water".    Jesus told him to come and Peter got out of the boat and walked towards Jesus.   After a few steps he took his eyes off Jesus and looked at the wind and the waves and took fright.   He sank into the water and shouted for help – "Save me!"   Jesus reached out and pulled him out of the water and asked him why he hadn't trusted him.    They went back to the boat.   As soon as they got into the boat the wind died down and all Jesus' disciples said that Jesus really must be the Son of God.      From that story we learned that Jesus can help us to do amazing things if we keep our eyes on him and if we trust him.    We will trust him more and more as we learn about him through prayer and through the stories in the Bible.      We also learned from this story that Jesus will help us very quickly if we are struggling or troubled and we pray to him for help.
After the worship we had a lovely tea with pizza and salad and delicious cakes.
We're looking forward to March now – Saturday 24th is our next date, not the 31st because that is Easter Saturday, and we look forward to seeing you then.      We will be exploring the Easter story.    No invitation needed, but if you're a child you'll need an adult, and if you're an adult you'll need a child!
Messy Church Logo Copyright Bible Reading Fellowship© 2018. See www.messychurch.org.uk