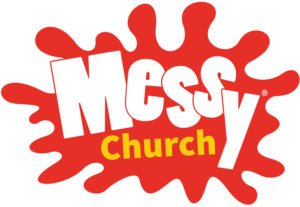 Our next Messy Church  is on:
Saturday,  25th August 2018, 4pm – 6pm, in the Kirk Centre (on the opposite side of the road from the Kirk).    
Especially for families with children from         0 – 10
What Liberton's Messy Church is!
A church for young families to enjoy together.
A church that takes place once a month on Saturdays, at a time when most families have finished the things they have to do.
An opportunity to be part of a church family for people who can't manage Sundays.
A fun time involving creativity, games (and mess!)
A worship time including songs, story, prayer, drama and suchlike.
A meal together.
We'll keep you up to date with the events and other important details here and on our Facebook page.
At the last Messy Church BEFORE THE SUMMER
Messy Church at the end of May looked at the story of a very special present from God to everybody who believes in Jesus – something we call the Holy Spirit.
After Jesus rose from the dead at Easter, lots of people saw him and talked with him, and ate with him, but after 40 days he said that he was returning to his Father God in heaven.     His friends were worried about how they were going to manage without Jesus – he was always there to look after them, to help them, to guide them in the right way to go.      What were they to do without him?    Jesus had said that he would never leave them alone.    He wanted them to carry on his work but they didn't feel they could speak well enough to tell people all about Jesus and about the love of God.    Jesus told them to wait in Jerusalem and God would send them a very special gift.
Ten days later they were all together in a house and there was the sound of a powerful wind blowing around them, and down came what looked like flames of fire, touching each of their heads, but not burning them.     Then they found they could speak in all sorts of different languages, which meant that they could speak to all the visitors in Jerusalem, who were from a lot of different countries!       They were to find out that this present from God, the Holy Spirit, was just like having Jesus with them all the time.      So he had been right when he said that he would never leave them alone – now they had him with them always!      He would be able to comfort them when they were sad, and give them courage when they were scared, and guide them in what to do.    What a fantastic present!        It's a present for each one of us too, if we believe in Jesus.
We didn't have flames of fire, but we did have bubbles which floated down on people's heads and reminded them of God's gift of the Holy Spirit!        Some people had made wonderful crowns with flames on them in the craft time, and some had been making bubbles of their own in the garden.
After some really good songs (with actions!) we said thank-you to Ruth, who was leaving Messy Church after seven years, and then enjoyed the pizza for tea.    Ruth cut an amazing thank-you Messy Church cake, which was delicious, as were all the other cakes for pudding.
There's a summer break now and Saturday 25th August is our next date.     No invitation needed, but if you're a child you'll need an adult, and if you're an adult you'll need a child!
Messy Church Logo Copyright Bible Reading Fellowship© 2018. See www.messychurch.org.uk