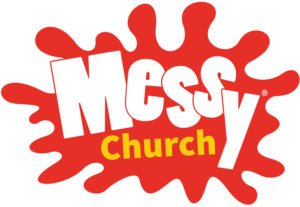 Our next Messy Church  is on:
Saturday,  26th May 2018, 4pm – 6pm, in the Kirk Centre (on the opposite side of the road from the Kirk).    
Especially for families with children from         0 – 10
What Liberton's Messy Church is!
A church for young families to enjoy together.
A church that takes place once a month on Saturdays, at a time when most families have finished the things they have to do.
An opportunity to be part of a church family for people who can't manage Sundays.
A fun time involving creativity, games (and mess!)
A worship time including songs, story, prayer, drama and suchlike.
A meal together.
We'll keep you up to date with the events and other important details here and on our Facebook page.
At the last Messy Church
Messy Church at the end of April looked at the story of the baby Moses being hidden in a basket among the bulrushes in the River Nile.     In the crafts there was some weaving going on, just like Moses' mum weaving her basket from the reeds by the river.   There were also some edible baskets with babies!
In the worship time, after a couple of songs reminding ourselves how wonderful God is and how much he loves us, we heard how the people of Israel were in exile as slaves in Egypt.   The King of Egypt, the Pharaoh, was worried that the slaves were having a lot of children and the boys were growing up big and strong.   He ruled that all boy babies born to the Israelites must be thrown in the river!     When one woman had a little boy, she knew that he would cry and someone would know he was there, so she decided to weave a basket from reeds, coat it with tar to keep the water out, and float the baby in it on the river.    She and her daughter Miriam, the baby's sister, hoped that God would take care of him.    Miriam stayed to see what happened.
Along came Pharaoh's daughter, the princess, with her servants.   She spotted something in the river, and sent one of her servants to lift it out.   She thought the baby was beautiful and wanted to keep it herself.   When the baby started to cry she wondered how she was going to look after him, but Miriam came up and asked her if she would like her to find a nurse for the baby.    She agreed, and Miriam fetched her mother!   The princess asked her to nurse the baby until he was older, and she did this, and returned the little boy to the princess.     She called him Moses, and brought him up in the palace.
God did take care of that tiny baby – and we can be sure he takes care of each one of us, young and old.      God also had plans for that little boy – when he was an older man God helped him to persuade Pharaoh to let the Israelites go, and Moses led them out of Egypt towards the land God had promised them.
After the worship we had a lovely tea with delicious cakes afterwards.
We're looking forward to May now – Saturday 26th is our next date, and this will be the last Messy Church before the summer break.     No invitation needed, but if you're a child you'll need an adult, and if you're an adult you'll need a child!
Messy Church Logo Copyright Bible Reading Fellowship© 2018. See www.messychurch.org.uk